About Hampton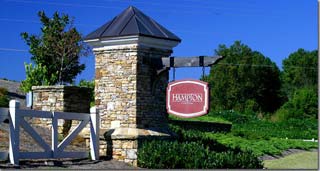 Located in Cumming, Georgia, Hampton Golf Village features a Par 71 golf course that is carved out of beautiful hardwoods and winds through creeks, wetlands and rolling hills. The course opened for play in 2000 and was constructed by Landscapes Unlimited, the same company who built East Lake, White Columns and Hawk's Ridge.
The Golf Course was designed by renowned architect, Clyde Johnston. Clyde Johnston has designed and renovated over 50 courses in the United States.
The Pro Shop carries all the latest lines in fashion and equipment. Allow our professional staff assist you with any club fitting or apparel need that you may have. Our golf staff is always on hand to help you find the perfect item after your round.
The Village Grill offers a wonderful array of savory menu items to choose from. Whether you need something quick at the turn or feel like relaxing after your round, the Village Grill can satisfy all your needs. On weekends, enjoy hot dogs and hamburgers at the turn, fresh off our outside grill!
Hampton is also the perfect place for your next special golf event. Having been host to hundreds of golf tournaments, we offer one of the most professional and most experienced golf outing programs in Atlanta. Our knowledgeable PGA staff is also very experienced in offering individual and group golf lessons for all skill levels.